We put a lot of hard work into creating content that people will love and want to share. We spend time tweaking the copy, adding just the right images, and making sure what we create is as appealing as possible to our audiences in an attempt to not only give them what they want to see, but also in hopes they share it with others. But with all the work we put into our content, it seems one element is often missing. Far too many are neglecting social schema. Here's why it's hurting our success.
The Price Of Neglecting Social Schema
Social schema provides social networks with the information they need to make our content appear most appealing when shared. It's data that indicates the page title, description, and image that should be used when shared on Facebook, Twitter, LinkedIn, Google+, Pinterest, and other social networks (this data can be the same for each site or differ, in order to make your content most appealing to the audiences on each network). The problem is, many aren't taking the time to include social schema with their content and aren't checking to be sure the previews that social networks populate look great.
The lack of social schema really hurts the sharability and success of a link. The example below shows good social schema, which means that the preview image populates correctly (ideally, you should create images that match the largest image dimensions for each social network and specify them within your schema), a proper title, and a description that tells the viewer what they'll be getting by clicking on the article and compels them to click. You can see that taking the time to specify these elements have made the share more appealing.
Those neglecting social schema will get none of these items pre-populated and thus, hurt their sharability. Below, we see an example of a link that doesn't have proper social schema. The title of the post doesn't appear automatically, so Facebook simply grabs the title of the site. The description is populated from the beginning of the page text, which means it's less compelling and not overly clear. People are far less likely to click a link to content they aren't clear on. The lack of an image in the preview means it won't grab viewers attention as well, which again means less interest in clicking and engaging with the social post.
Below, we have an example of the same post previewed on LinkedIn. The really sad part is that this post is from the official Instagram blog. You'd think that one of the largest social networks around would make it a point to be on top of social schema, especially with the big impact it can have on social success.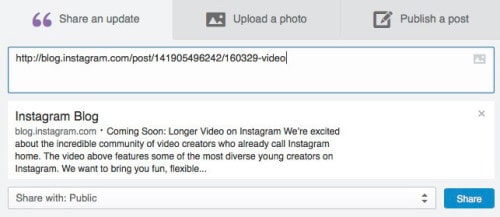 As you can see comparing posts with and without, neglecting social schema makes a preview far less appealing to the viewer. Those with proper schema set will have a much better chance of attracting attention than those without.
While you may be able to correct the lack of social schema by setting things like title, description, and preview image before posting links on your own social accounts (and you should look to do so in order to optimize all the content you post, no matter if it's your own or links to others websites), others won't likely do the same. The chances those who share your content will take the time to set the preview image, title and description before sharing is almost zero. And why would you want to leave that in the hands of others, when you are best suited to provide those elements in the most compelling way?
More Social Success With Schema
It's clear that social schema makes our posts far more compelling both to share and to click. So why negatively impact your content by neglecting social schema? Take the time to make your content as share-friendly as possible. It only takes a couple extra minutes to specify the required elements (Yoast SEO is a huge help for those using WordPress) and the return you get on that little extra investment will pay off big when it comes to the overall sharability and social success of your content. Take the time to make it happen.